A stuffy feeling! Friends and family dinner, the work of social intercourse, often can not leave the wine. If someone can be wine, who do not drink or drink, also often accused of lack of sincerity. Moreover, once excessive drinking, may lead to alcoholic liver disease, liver cirrhosis and even liver cancer.
  The scientists found that people who carry a mutation of a gene have a particularly high risk of drinking and cancer. This is the aldehyde dehydrogenase gene mutation in ALDH2, this is the key gene in human hair. In recent years, a large number of studies both at home and abroad have proved its importance. The National Center for disease prevention also has a professional report on the gene.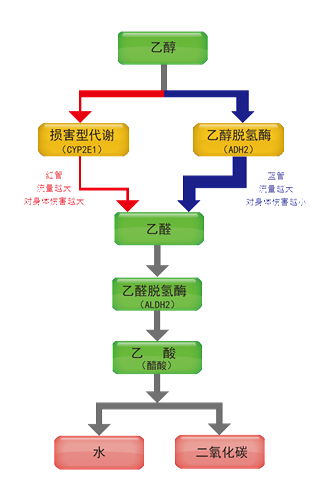 Product introduction:
Yinfeng medical examination center of the launch of the alcohol metabolism gene detection, just 2ml saliva, which can detect the alcohol metabolism, the acetaldehyde metabolizing capacity, damage to the metabolic level of a full range of your drinking related to individual characteristics.
Detection of genes and their significance
Gene class

Detection site

significance
ADH2

(乙醇脱氢酶)

醇点1
A/G
乙醇代谢为乙醛AA>AG>GG
醇点2
T/C
乙醇代谢为乙醛TT>TC>CC

ALDH2

(乙醛脱氢酶)

醛点
G/A

乙醛代谢为乙酸

GG>GA>A

CYP2E1

(细胞色素氧化酶2E1)

害点1
C/T

损害性代谢

TT>CT>CC

害点2
T/A

损害性代谢

AA>TA>TT
intended for:
People who drink regularly, and want to know the size of the human gene hangover ability.
be careful:
Minor can be detected, but not as a guide to drinking alcohol, because drinking on the physical development of minors and neurological function;
There are a number of strong alcohol metabolism, often accompanied by alcohol and vomiting, diarrhea and other gastrointestinal discomfort characteristics, so the amount of alcohol should be based on their actual situation, as appropriate to drink.