From June 21 to 22, the 2nd "China (Jinan) New Growth Drivers International Innovation and Entrepreneurship Contest" in American Region, hosted by Talents Service Leading Group Office of Jinan, Shandong Province and undertaken by Jinan Science & Technology Bureau and Jinan Sacramento Life Science Innovation and Incubation Center, was successfully held in Sacramento, California.
The competition aims to thoroughly implement the important directive spirits of General Secretary Xi Jinping on talent work, such as "Bring the talents from all over the world together and then use them" and "Introduction of talents and intelligence from home and abroad is an important part of China's opening up". In close combination with the strategies of "One Belt and One Road Initiative" and "transformation of old and new kinetic energy", the competition will further introduce innovative, independent and leading high-tech projects from home and abroad, attract high-level talents and teams from home and abroad to innovate and start businesses in Jinan, comprehensively promote high-quality development with new development concepts, and provide strong intellectual guarantee to construct a "large, powerful, beautiful, rich and traffic-convenient" modern international metropolis.
Zhang Bin, the head of the Jinan delegation and the deputy director of the Jinan Science & Technology Bureau, Shandong Province, delivered a speech and declared the opening of the competition. Ren Faqiang, the deputy consul general of the Chinese Consulate General in San Francisco, Jeff Harris, Sacramento councillor, and Patrick Kennedy, the president of Sacramento Region, attended the opening ceremony and delivered speeches.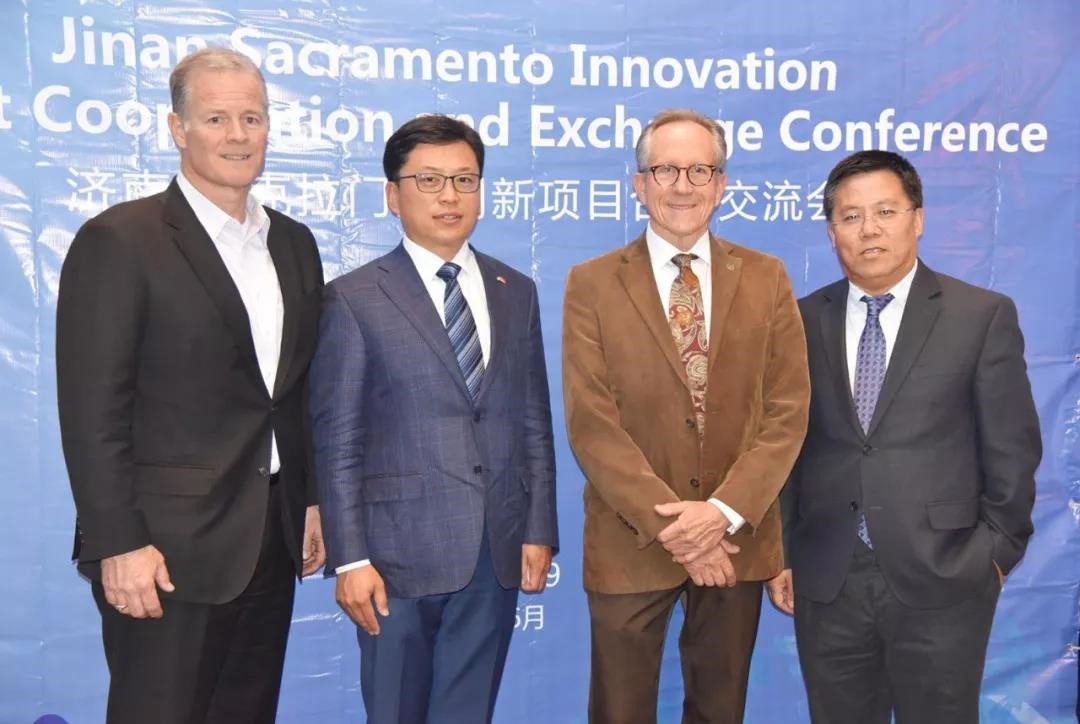 An Hongyan (the first one on the right), the general manager of Yinfeng US Company, and Dr. Mark Romney of UCD, Mr. Ren Faqiang, the deputy consul general of the Chinese Consulate General in San Francisco, and Mr. Jeff Harris, Sacramento Councilor
There were 158 programs received in the America Division, 71 of which reached the final. After fierce competition in the road show presentation, question exchange and on-site scoring, 30 programs were selected to reach the final of the China (Jinan) New Kinetic International Competition of Innovation and Entrepreneurship for Overseas Talents to be held in Jinan in July.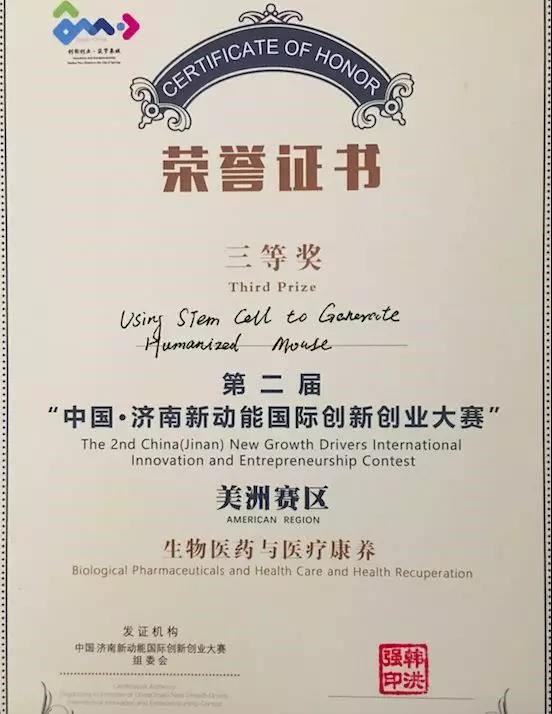 Yinfeng US Company successfully reached the final with two programs. Among these two, the project "Production of Humanized Immune System Mice with Umbilical Cord Blood Stem Cells" was awarded the third prize after fierce competition and will participate in the final in Jinan in July.